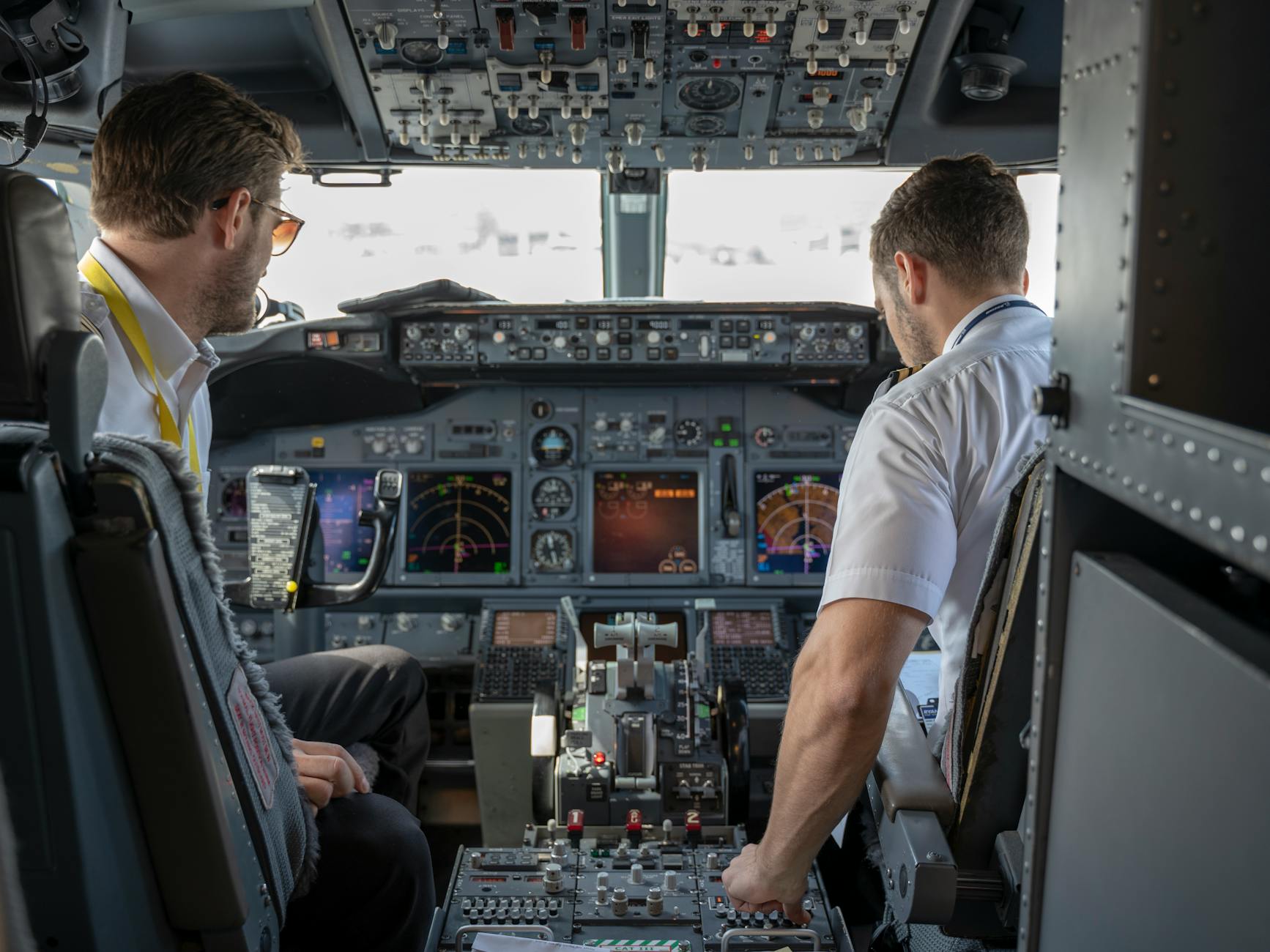 Aviation refers to the development and operation of aircraft. The industry encompasses a varied assortment of skilled professionals, including pilots, engineers, mechanics, air traffic controllers, and airport managers. Aviation offers strong employment prospects and competitive salary levels. According trage. As of 2019, these professionals earned a median annual salary of $121,430.
This page offers an overview of aviation degrees, including the best aviation colleges, typical aviation courses, potential career paths, earning potential, and industry licenses and certifications.
 WHAT IS AN AVIATION DEGREE?
Aviation colleges offer various types of education, and many schools cover more than just piloting. Students can pursue programs in airport management, aircraft engineering, air traffic control, and flight stewardship. However, many programs focus on aircraft piloting.
Pilot training occurs at many levels: Private pilots focus on small aircraft for personal use, while airline transport pilots prepare students to pilot major commercial aircraft. Piloting smaller, single-engine aircraft requires lower levels of education, while commercial piloting typically requires at least a bachelor's degree.
WHY GET A DEGREE IN AVIATION?
Earning a degree from one of the best aviation colleges offers several professional and personal benefits. See below for five common reasons students attend flight school.
PROFESSIONAL ADVANCEMENT

Professional flight training is a universal requirement for pilots. Earning a degree is the surest path to a career in the aviation field.

SPECIALIZED SKILLS

An aviation program builds the technical skills and knowledge necessary for a career as a pilot. Students learn about aircraft operation, aviation law, and weather factors.

HIGHER SALARY POTENTIAL

An aviation degree confers advanced skills that enable graduates to pursue a wider selection of careers with higher salary potential. In general, more advanced degrees yield higher average salary levels.

NETWORKING OPPORTUNITIES

Many aviation programs partner with major airlines and other aviation employers. Enrolling in these programs can offer students a larger professional network and increased employment opportunities after graduation.

LICENSURE AND CERTIFICATION

Aviation programs prepare students for various types of licensure and certification, which are required for pilot careers. Advanced certification can also increase employment prospects.
 1. Purdue University-Main Campus
WEST LAFAYETTE, IN
A major public college based in West Lafayette, Indiana, Purdue ranks among the best aviation colleges in the country. Purdue's School of Aviation and Transportation Technology hosts 10 aviation degrees at all academic levels. These programs focus on contemporary applications of aviation technology, emphasizing key challenges such as sustainability, safety, and quality.
At the undergraduate level, Purdue offers seven aviation majors, including aviation management, aeronautical engineering technology, unmanned aerial systems, and airport management and operations. Graduate offerings include a master's in aviation and aerospace management, a Ph.D. in aviation technology, and a graduate certificate in aviation safety management.
Purdue students can take advantage of professional internship opportunities, career fairs, job opportunities, and other networking events. Many prominent aviation companies recruit Purdue graduates.
 2. Ohio University-Main Campus
ATHENS, OH
Training pilots and other aviation professionals for more than 70 years, OU is among the best aviation schools in the Midwest. Emphasizing leadership, professional development, and technical expertise, the school's Department of Aviation prepares students to meet the demands of the modern aviation industry. OU offers three aviation programs: an associate degree in aviation flight technology and bachelor's degrees in aviation flight and aviation management.
The two-year aviation flight technology program prepares students to earn private pilot and commercial pilot certifications upon graduation. The bachelor's in aviation features advanced courses on topics such as corporate flight operations and aircraft and flight crew operations. The bachelor's in aviation management program builds the skills needed to administer airport operations and other aviation regulatory issues.
OU aviation students benefit from extensive campus training facilities, including a dedicated airport with a wide selection of aircraft. Students can also use an assortment of flight simulation facilities.
 3. Sinclair Community College
DAYTON, OH
A community college based in Dayton, Ohio, Sinclair ranks among the best flight schools in the state. The school offers several technical certificate and associate degree programs, along with bachelor's degrees in aviation technology/professional pilot and unmanned aerial systems. Sinclair's aviation programs prepare graduates for many different roles in the industry, including pilot, aircraft dispatcher, mechanic, aviation manager, and unmanned aerial systems operator.
Sinclair holds an articulation agreement with Embry-Riddle Aeronautical University, one of the country's leading flight schools. Candidates can complete their associate degree at Sinclair before seamlessly transferring into one of Embry-Riddle's bachelor's programs.
Sinclair maintains a partnership with First Flight Aviation, a major regional pilot training company. The school also works with PSA Airlines, a Dayton-based American Airlines subsidiary, to offer pilot training through its PSA Cadets Program to eligible students. This special training program features tuition reimbursement, professional mentoring, and a guarantee of employment upon graduation.
 4. Orange Coast College
COSTA MESA, CA
 One of the largest community colleges in California, OCC serves more than 25,000 students annually from its 164-acre campus in Costa Mesa. As one of the best aviation colleges in the state, OCC offers several aviation science programs, including an associate of science degree and several professional certifications. OCC graduates can work as pilots in many different industries, including government, emergency transport, law enforcement, and commercial airlines.
OCC students train in advanced flight simulator labs and on the school's fleet of Piper and Cessna planes. Students receive pilot training through APT Flight lab courses and enjoy significant tuition discounts compared to other commercial flight schools in California. Flight lab admissions are highly competitive, and full-time students receive preference. Students can also use flight simulator labs to meet many of the requirements for pilot certification.
5. Ivy Tech Community College
INDIANAPOLIS, IN
Based in Indianapolis, ITCC ranks among the best flight schools in Indiana. This two-year college offers aviation programs in four major areas: aviation maintenance technology, aviation management, aviation manufacturing, and aviation technology/flight. ITCC offers several types of aviation programs, including associate degrees, certificates, technical certificates, and workforce certifications.
The aviation maintenance technology program trains students to service and maintain aircraft, with courses offered face-to-face at ITCC's Aviation Center at Smith Field in Fort Wayne. This 21,000-square-foot facility offers both classroom and hangar space. Students receive comprehensive hands-on training, building their skills by servicing ITCC's fleet of aircraft.
The aviation management program provides both private pilot and ground school training, preparing students to earn their private pilot's license. The aviation manufacturing program offers part-time internship opportunities and a variety of professional certification pathways, including assembly mechanic technician, certified production technician, and electrical assembly technician.
6. Western Michigan University KALAMAZOO, MI
One of the best aviation colleges in Michigan, WMU serves more than 21,000 students from its main campus in Kalamazoo. WMU's College of Aviation holds accreditation from the Aviation Accreditation Board International, ensuring that students receive practical training based on industry-standard practices. Students can choose from three programs: aviation flight science, aviation technical operations, or aviation management operations. Aviation students train at the W.K. Kellogg Airport in Battle Creek, which boasts a wide selection of aircraft and the state's second-longest runway. The airport also houses an Air National Guard Base, creating additional opportunities for professional training. Students fly in and out of several airports across Michigan, learning to effectively navigate different weather systems and temperatures. Aviation candidates can also pursue elective courses to specialize their studies and increase their job options. Some of the College of Aviation's elective offerings include certified flight instructor, float plane rating, and jet equivalency training.
 7. San Jacinto Community College PASADENA, TX
Based in Pasadena, Texas, San Jac offers a cutting-edge aerospace technical training program that prepares students for careers in the burgeoning aerospace industry. The program trains students for manufacturing and mechanical technician positions in aerospace environments. Candidates complete orientation and technical core courses before choosing a technical track, such as aerospace mechanical technician, aerospace quality technician, mechatronics and industrial automation technician, or aerospace electrical assembly technician. The program uses a hybrid format that combines on-campus and online courses. San Jac serves as the official education training partner for Houston Spaceport at Ellington Airport, a center of aerospace manufacturing, research, and commercial space operations. Students can participate in many experiential learning and training opportunities at the Spaceport campus.
 8. University of Alaska Anchorage ANCHORAGE, AK
One of Alaska's major public colleges, UAA enrolls more than 17,000 students annually. The school's Aviation Technology Division offers degree and certificate programs in air traffic control, aviation management, aviation maintenance technology, and professional piloting.
The aviation management program offers both associate and bachelor's degree options, preparing students for administrative and managerial roles in the aviation field. Students build the organizational, managerial, technical, and human relations skills necessary to navigate large-scale aviation operations.
The professional piloting track prepares students for pilot positions with passenger airlines, offering both associate and bachelor's degree options. The curriculum focuses on the technical side of aviation, covering key topics such as aerodynamics, aircraft operating limitations and performance, aircraft engine and system operation, and navigation and communication methods. The program prepares graduates to earn their commercial pilot certificate for both single and multi-engine aircraft.
 9. Ohio State University-Main Campus COLUMBUS, OH
A major public school based in Columbus, OSU ranks among the largest colleges in the state, serving more than 61,000 students annually. As one of the best aviation colleges in Ohio, OSU offers a bachelor of arts and a bachelor of science in aviation. Students learn how to design, administer, and operate aviation systems both nationally and internationally. All candidates complete eight core aviation courses, covering key topics such as aircraft communication, aircraft performance and weather, aviation management and marketing, aviation human factors and safety, and aviation regulations. Students can also select from electives that explore specialized topics in areas like air transportation analysis, flight education, and airport management. OSU stresses experiential learning, with about 75% of aviation students participating in either an internship or co-op education before graduation.
 10. Bowling Green State University-Main Campus BOWLING GREEN, OH
Training pilots and aviation professionals since 1978, BGSU's aviation school offers a bachelor's degree with two specializations: flight technology and operations and aviation management and operations. This Ohio-based public college boasts modern facilities and cutting-edge aviation technology, preparing students for careers such as airline pilot, airport manager, aviation consultant, and airfield specialist. The flight technology track trains commercial pilots, emphasizing the technical skills necessary for piloting. The aviation management track focuses on the business side of the industry, including topics in air traffic control regulations, aviation law, aviation planning and design, public relations, and economics. BGSU boasts extensive aviation facilities, and the school's main campus houses the Wood County Regional Airport. The college also hosts a modern flight center with 8,800 square feet of education space and 20,000 square feet of hangar space.