Hong Kong seaplane start-up buoyant about success despite headwinds
A seaplane start-up in Hong Kong is hoping to get airborne as early as the middle of 2021 — with a long-term goal of establishing similar operations in several Southeast Asian countries. 
Speaking at a virtual press conference to mark the launch, Seaplane Hong Kong founder Steven Cheung says he is confident the company will achieve success — in a market that last saw seaplane operations more than half a century ago. 
For one, Seaplane Hong Kong will begin operations serving the domestic Hong Kong market, providing aerial sightseeing services, private charters, as well as on-demand air taxi services. 
"[We are] serving the domestic market…with tourism, so we're not actually serving passengers or…trying to get them from A to B," says the former pilot with an undisclosed airline. 
Cheung adds that the company is in talks with the Hong Kong authorities for approval to operate from two locations in the territory, including from a cruise terminal at the former Kai Tak airport site. 
However, given the busy harbour traffic in Hong Kong, Cheung admits that it was likely the seaplane would only be able to take off "outside of the harbour area". 
"I am confident that we'll be able to get this off the ground and and welcoming you soon on board one of aircraft whether in Hong Kong or somewhere in Southeast Asia" - Steven Cheung, founder, Seaplane Hong Kong
By the second half of the year, Cheung hopes to get regulatory approval from the Chinese civil aviation authorities, to begin seaplane operations into southern China's Greater Bay Area — an area the Chinese authorities have earmarked for increased investments in recent months. 
Cheung says Seaplane Hong Kong will "avoid operating" routes that have existing air services, or those that are already served by rail. 
"If there is a route…already served by a high-speed rail, ferry, or helicopter, we will not go to those places to avoid direct competition. Because a seaplane is after all a piston engine aircraft [and] we cannot compete with a jet, so we're targeting more of a luxury domestic market rather than a point to point service," Cheung adds. 
Thus, its network will exclude Macau, which also sits in the Greater Bay Area and has helicopter and high-speed ferry links with Hong Kong. 
A list of destinations shown to reporters indicate the company hopes to serve points in China to the west and east of Hong Kong, including westward to Beihai city in Guangxi province — a 108-minute seaplane ride — and Shantou in Guangdong province in the east.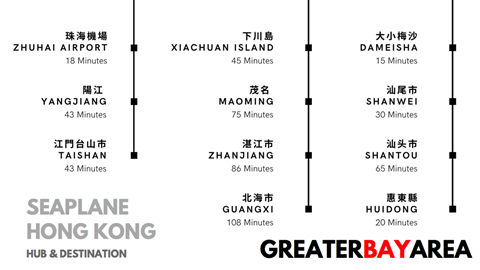 Cheung discloses that the company will utilise Viking Air DHC-6 Twin Otter seaplanes for its operations, starting with a fleet of two aircraft this year and growing up to 28 examples by 2025. 
Asked by FlightGlobal the origins of the Twin Otter seaplanes, Cheung says: "[We] will shortly place … orders, we've got planes that are already built, we can bring them along… so that's not a problem." 
By 2022, Cheung hopes to establish operations in Philippines, Vietnam and Indonesia, leveraging the Chinese government's Belt and Road initiative to expand into Southeast Asia. 
Cheung is a picture of confidence despite the doom and gloom engulfing most of the aviation industry. 
Asked if he expects the carrier to turn a profit in its operations, Cheung says: "The [Twin Otter] plane can only sit 19 people, so we'll break even with 10…actually less than [that]…with eight people. So that's not a problem. I'm sure we can find eight people every day to travel on a plane." 
"I am confident that we'll be able to get this off the ground and and welcoming you soon on board one of our aircraft whether in Hong Kong or somewhere in Southeast Asia," he adds. 
Cheung's venture is not the first time seaplane services have been floated in the city. As recent as 2008, a Canadian entrepreneur had pitched a seaplane service within Hong Kong, which has not seen seaplane flights since 1961.